He met a jugglery in a workshop, when he belonged to a dramatic company.
While giving some street performances, he had been learning the skills of "Clown", "mime" and "Acrobatics".
Now he gives many shows with original ideas and various skills by his own direction.
The show is always full of laughter.
The audience will absolutely enjoy Hiyro's performance as if read a comic book.

Amazingly, everyone from children to adults can enjoy it!!


Is he a "juggler", a"Clown", or an "acrobat"?
No!He is Hiyro!!!


You should enjoy with Hiyro's gag and comical act!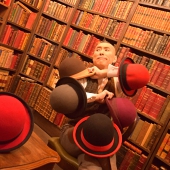 【TRAINING】
Open sesame Clown school (Japan)
Souri circus school (Japan)


【SPECIAL SKILLS】
Hat Juggling
Acrobatics(Handstand)
Magic
Balloon Sculpting
Comedic Movement


【HONORS】
ArioKawaguchi Streetperformance contest,Japan2008

Third PlaceIs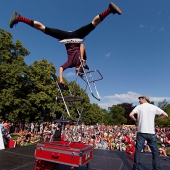 【FESTIVAL】

Gaukler Festival Interlaken(Switzerland 2014)
Kleinkunst Festival Insel Usedom(Germany 2014)
Veregra Street(Italy 2014)
Del Mundo(Belgium 2014)
Cirkul'art(Slovakia 2014)
Gevleugelde Stad Ieper(Belgium 2014)
Pflasterspektakel (Austria 2013,2012)
Feldkirch (Austria 2013)
CARNAVAL SZTUK-MISTRZOW (Poland 2013)
Siam Street Fest (Thailand 2012)
MERCANTIA(Italy 2012)
AUCKLAND BUSKERS FESTIVAL (Newzealand 2012)
DISTRICT ARTS FESTIVAL (Singapore 2011,2009)
Bamberg zaubert (Germany 2009)
Berlin Lacht! (Germany 2009)
Buskerbus Festival (Poland 2009,2006,2003)
Variete Street Theatre (Singapore 2008,2007)
La Ghironda (Italy 2004)

【FESTIVAL(Japan)】

Noge street performance festival 2007,2004
Setagaya street performance festival 2003,2002
Hitachi international street performance festival 2003
Daidogei World cup in Shizuoka (OFF) 2011,2010,2009



Movie 2 minutes,http://gdata.youtube.com/feeds/api/videos/2msj-rUP23s,,{"playerWidth":"320","useCustom":false,"autoPlay":false,"autoLoop":false,"autoNext":false,"quality":"default","qualityName":"自動","coverImage":""}
Movie 10 minutes,http://gdata.youtube.com/feeds/api/videos/XPpGSQ6acb4,,{"playerWidth":"320","useCustom":false,"autoPlay":false,"autoLoop":false,"autoNext":false,"quality":"default","qualityName":"自動","coverImage":""}

I have received invitations to appear a lot of events(over 400) all over the world. If you would like to book my performance, Please send me a e-mail
hiyro_performer100718@yahoo.co.jp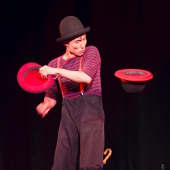 next